Board Members
The Historic Frog Level Merchants Association
Board Members:
Mission Statement:
"To Honor, Restore & Promote The Historic Past Of Frog Level, For Future Generations"
Most of the Board Members are merchant and business owners in Frog Level and some are "at large" meaning they don't have a business in Frog Level, but have a special interest in helping Frog Level to expand and grow, while educating the public about the rich history of Frog Level and Waynesville, NC.
Our current Board Members want to improve the area, promote business and draw more attention to the history of Frog Level buildings, and direct residents and visitors to its unique shops, businesses, art studios, craft shops and enjoy the culture that is so evident here.
Come join us – help us to promote Frog Level – see what all the excitement is about!

President: Mel Fergenbaum
Business Owner of Mountain Spirit Wellness
mel@mcinsightsinc.com / 727.580.1842
Mel has been involved in the human potential field since 1977 as a student and an instructor and is certified to teach several relationship courses and workshops where he has experienced a wide range of teaching and learning techniques. All of his personal experiences in getting to this place in his life have enriched him and enabled him to assist students in pursuit of their goals. Mel has a varied business background and since 1978 has been a self-employed corporate trainer. Mel brings the experience of having created and maintained a loving relationship for 50 years until his wife passed away in March 2006. Mel has 3 children and 3 grandchildren and is in a loving & committed relationship with his partner Lynda.
---
Secretary: Open Position
---
Treasurer: Jim Pierce
jpierce777@bellsouth.net / 828.734.9777
Jim Pierce, a Mississippi native, owned and operated a warehouse and distribution company. He moved to North Carolina 18 years ago. Jim is now retired and owns rental property in Frog Level.
---
Property & Business Owner-At-Large: Dewey Stovall
Waynesville Candy & Specialty Co. / 828-456-3612
Waynesville Candy Company has occupied their building in Frog Level from 1925 to the present day. George Dewey Stovall, Sr. arrived in Waynesville from Cleveland, Georgia ca. 1921. In the 1930s and 1940s this store was the distribution center for all of the Stovall 5 & 10 Cent stores in western North Carolina and northern Georgia. Dewey Stovall, the current owner, still operates out of the building and if one is fortunate enough to tour Dewey's treasured family store, they can relish original candy cases and vintage general store stock.
---
Business Owner-At-Large: Clark Williams
Frog Level Brewing Company / 828-454-5664
Clark is the owner of Frog Level Brewing, home to some of Waynesville's finest craft beers. The storefront and brewing space is located in Frog Level, where the staff invites patrons to enjoy their fine handcrafted brews inside or on their back deck overlooking Richland Creek. Frog Level Brewing is a member of the NC Craft Brewers Guild and the Brewers Association
---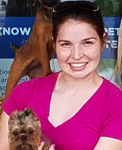 Business Owner-At-Large: Felisha Yonn
The Dog House / 828-452-9753
Born and raised here in Haywood County, Felisha grew up with a love for animals and people alike. Now the proprietor of The Dog House in the Frog Level Shopping District she has forged this love into a career. Felisha spends her free time being a board member of SARGES and hosting fundraisers for local animal rescue organizations to give back to the community that has given so much to her.